A FACELIFT FOR

THE FUTURE
We want to thank everyone who was involved in helping us with our sanctuary remodel! It could not have gone better. God blessed us abundantly with the funds and the help needed to finish in a timely manner.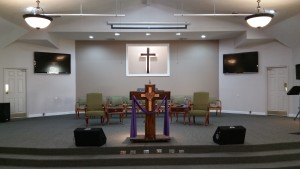 Be sure to join us for Growth Groups at 6:00 every Sunday evening. There is a wonderful time of study, discussion and refreshments!
Our current study is by Andy Stanley and is titled:
"Christian: It's not what you think"
We currently offer two studies:
Pastor led mixed group – MAC Center
Come at 5:30 and fill your plate up with some yummy goodies!
Don't forget to download our new church available at both the Apple App Store and Google Play for Android. It is listed as 1st Baptist Lk Panasoffkee
in the search.
FROM OUR PASTOR
Welcome to our website. We are a Christ serving, people loving ministry, which desires to see the conversion and development of people in the Christian faith.
We strive to live up to our purpose statement that our church is a lighthouse for the lost souls of the world, and a greenhouse for the development of their spiritual life. Reaching out to not only those in the Lake Panasoffkee, Sumter County, FL area, but beyond our community.
I hope our website is informative and helpful. If you need more information with regard to our church and its ministries, please contact us. We pray that you would consider becoming part of our church family, and allow us to become part of your family as well.
In His Service,
Dr. Randy Alonso