Our Statement of Faith
First Baptist Church of Lake Panasoffkee has been formed as a fellowship of believers in the Lordship of Jesus Christ. Our supreme desire is to know Christ and to be conformed to His image by the power of the Holy Spirit and to share this message to a lost world.
Leadership Team:
Our leadership team recognizes the authority of God, and realizes that we are shepherds who serve under the Chief Shepherd, Jesus Christ. We desire to devote ourselves to prayer and to the ministry of the Word. Our passion and goal is to equip the believers for the work of the ministry until we all attain maturity in the fullness of Christ.

Pastor Randy Alonso, Senior Pastor
Pastor Randy Alonso returned to our church in August of 2008. He previously served First Baptist Church as minister of worship and youth from 1995 through 2002. In 2003, God called him to serve as pastor of another local church for five years. He recently returned as our senior pastor, incorporating an expositional preaching style with modern day application to his services.
Brother Randy received his seminary education from New Orleans Baptist Theological Seminary, completed his graduate work and received his Doctorate of Theology from Andersonville Theological Seminary. He has led a missions team to Honduras and led four building programs, in two churches, over the past twelve years.
He and his wife Debbie have two children, Angie and Joey, and eight grandchildren. Born in Tampa Florida, he loves to golf, fish and is an avid football fan.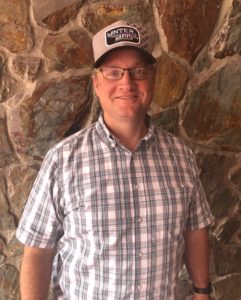 Michael Phelps, Worship Leader and Interim Youth Leader
Michael Phelps has a long history here at First Baptist. He met and married his wife here and is now an invaluable part of our ministry team. Michael absolutely loves to sing and has a true passion for leading the worship at our church. He also currently heads up our Youth Department which meets Wednesdays from 7:00 pm to 8:00 pm. He is an avid football fan. He and his wife Angie have four children and are all active in church ministries.

Leslie Rogers, Ministerial Assistant
Leslie Rogers has been on staff as Church/Financial Secretary for more than 20 years. She looks at her position not as a "Job", but as a Ministry! She enjoys working behind the scenes to make our Church a True Beacon of Light to our community.
Leslie & her husband, Bill, have a daughter Kelly. She loves to spend time with her family and friends camping and sitting on the waters edge of the beach reading a good book!

Angie Phelps, Children's Director
Angie is our Children's Director. She has a passion for the ministry and for kids. She is also a member of our Praise Band. Angie and her husband Michael have four kids of their own; Devin, Abigail, Brittani and Caitlin. Angie loves music and animals. She adores her pet Pugs, Axel, Maverick, and Sasha. She is a soon-to-be graduate of the University of Florida and is an avid Gator fan. She also loves to cook and bake.